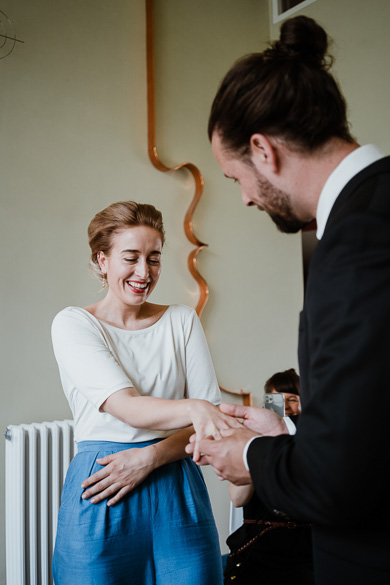 Bauhaus Weddings
Tying the knot at Haus Rabe in Zwenkau – stylish Bauhaus weddings
You can also get married in the magnificent piece of cultural heritage which is Haus Rabe. Weddings are carried out by the registrars of Zwenkau town council in the living hall of the house with its many works of art. At the subsequent sparkling wine reception, you have the opportunity to use the house and garden as a backdrop for wedding photographs and give your guests a brief tour of the house.
To this end, Haus Rabe can be booked for a maximum of 20 persons for a duration of two hours. All appointments for weddings in this piece of cultural heritage are organized by the registrars of Zwenkau town council and then coordinated with Haus Rabe.
If you require further information on this subject:
Wedding applications
Eigene Veranstaltungen im Haus Rabe
Manchmal braucht es das Ambiente der besonderen Art. Sie möchten ihre Weihnachtsfeier, Gremiensitzung, Tagung oder einen privaten Klavierabend im Haus Rabe verbringen? Schreiben Sie uns!
Zwenkau ist ein Geheimtipp für Menschen mit Sinn für klare Schönheit und erholsame Orte: Die kleine Stadt befindet sich abseits vom Großstadttrubel am eigenen See. Das Haus Rabe liegt in bester Nachbarschaft zu weiteren Architekturdenkmälern des modernen Bauens.
Haus Rabe Formate
Was ist Wortwechsel?
Wortwechsel ist ein eigenes Veranstaltungsformat im Haus Rabe. In der Wohnhalle des Hauses werden Bücher vorgestellt, Vorträge gehalten und Ausstellungen eröffnet. Im Anschluss sind alle Anwesenden eingeladen zum lockeren Ausklang bei einem Glas Sekt.
Was ist Übungsraum?
Übungsraum ist ein Workshop Format, ähnlich dem Bauhaus-Vorkurs. Das Haus Rabe ist dafür Ausgangspunkt und Inspirationsquelle. Expert:innen erklären ihr Handwerk oder Gestaltungsmittel und danach wird selbst fotografiert, getöpfert oder gezeichnet.
Lust auf Yoga im Bauhaus, oder Ideen für die eigene Wintergartengestaltung?
Was ist Sause?
Sause meint Feste und Anlässe in lockerer Runde. Im Garten sind unsere Gäste zu Kaffee, Kuchen und auch mal Musik geladen. Wird es draußen kalt, wärmt uns ein Lagerfeuer. Wir laden ein zum Bauhauspicknick, Sommerfest und zum Tag des offenen Denkmals.