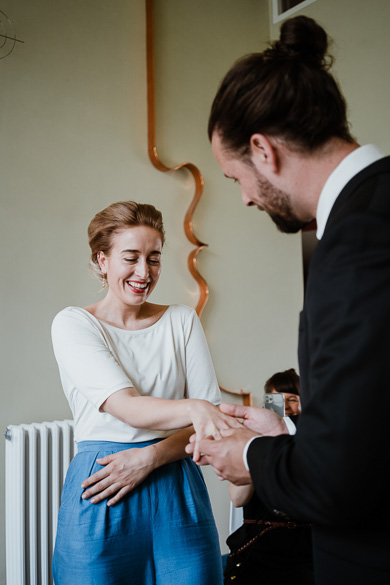 Bauhaus Weddings
Tying the knot at Haus Rabe in Zwenkau – stylish Bauhaus weddings
You can also get married in the magnificent piece of cultural heritage which is Haus Rabe. Weddings are carried out by the registrars of Zwenkau town council in the living hall of the house with its many works of art. At the subsequent sparkling wine reception, you have the opportunity to use the house and garden as a backdrop for wedding photographs and give your guests a brief tour of the house.
To this end, Haus Rabe can be booked for a maximum of 20 persons for a duration of two hours. All appointments for weddings in this piece of cultural heritage are organized by the registrars of Zwenkau town council and then coordinated with Haus Rabe.
If you require further information on this subject:
Wedding applications
Own events at Haus Rabe
Sometimes it needs the ambience of a special kind. Would you like to hold your Christmas party, committee meeting, conference or private piano recital at Haus Rabe? Write to us!
Zwenkau is an insider tip for people with a sense for clear beauty and relaxing places: The small town is located away from the hustle and bustle of the big city on its own lake. Haus Rabe is located in the best neighborhood of other architectural monuments of modern building.
Haus Rabe Formats
What is Wortwechsel?
Wortwechsel is a separate event format at Haus Rabe. Books are presented, lectures are held and exhibitions are opened in the living hall of the house. Afterwards, all those present are invited to a relaxed evening with a glass of sparkling wine.
What is Exercise Room?
What is Übungsraum?
Übungsraum is a workshop format similar to the Bauhaus pre-course. Haus Rabe is the starting point and source of inspiration. Experts explain their craft or means of design and then the participants take photographs, make pottery or draw.
Fancy yoga in the Bauhaus, or ideas for your own conservatory design?
What is Sause?
Sause means parties and occasions in a relaxed atmosphere. In the garden our guests are invited to coffee, cake and sometimes music. If it gets cold outside, a campfire warms us up. We invite you to the Bauhaus picnic, summer festival and open monument day.